My Blog
Posts for tag: nutrition
By Three Fountains Family Dental Inc
November 29, 2020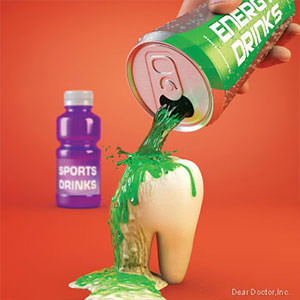 Although energy drinks are but a blip on the historical timeline compared to coffee or tea, they've displaced these traditional stimulants among nearly half of today's adolescents and young adults. But these sweetened "processed" drinks are also controversial among healthcare experts—particularly the effect they may have on dental health.
Besides the added sugar found in many energy drinks—a prime food source for harmful bacteria—many energy drinks and their cousins sports drinks contain significant amounts of acid. High levels of acid soften and erode tooth enamel, which can lead to tooth decay.
During one experimental study, portions of tooth enamel were subjected to a number of name-brand energy and sports beverages. Over the course of a few days, researchers recorded significant enamel loss, especially involving the energy drink samples.
Abstaining from both energy and sports drinks is a sound way to avoid enamel erosion (the best hydrator, it turns out, is simply water). But if you do wish to continue consuming these beverages, here are a few common sense precautions for reduce the risk of harm to your teeth.
Partake only at mealtimes. Among its many abilities, saliva is able to neutralize oral acid and bring the mouth to a neutral pH level within 30 minutes to an hour. But if you're sipping on high-acid beverages throughout the day, your saliva may not be able to compensate effectively. Drinking energy drinks only during a meal helps saliva do its acid-buffering job better.
Rinse with water afterwards. Rinsing with a little water after eating or drinking something acidic can help reduce the pH levels in the mouth. That's because water is by and large neutral on the acidic/alkaline scale. Because it's not adding more, rinsing with water dilutes any concentrations of acid that may still be lingering in your mouth.
Don't brush immediately. Brushing is essential to overall hygiene, but if you do it right after you eat or drink, you could be doing more harm than good. That's because elevated acid levels that naturally occur after consuming foods and beverages can temporarily soften and demineralize the surface enamel. Brushing could remove microscopic bits of softened enamel. If you wait an hour to brush, you'll be giving saliva time to "re-mineralize" your enamel.
If you would like more information on the role of beverage acid in dental disease, please contact us or schedule an appointment for a consultation. You can also learn more about this topic by reading the Dear Doctor magazine article "Think Before Your Drink."
By Three Fountains Family Dental Inc
February 23, 2020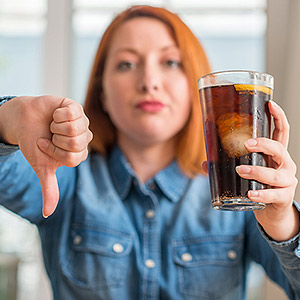 You can find some version of the ever popular kids' meal at most major fast-food restaurants. It's a neat little package: child's size portions of burgers, chicken nuggets or sides—and often a small toy or treat to boot—all tucked into its own colorful cardboard container.
The drive-thru menu board at your favorite fast-food joint gives you plenty of choices to fill out your child's meal. But you may notice something missing on many major chains' kids' menus—the mention of soft drinks as a beverage choice. You can still get one for your child's meal, but the visual cue is no more on the menu board.
None of the "Big Three"—Burger King, McDonald's or Wendy's—post soft drinks as a menu item for their kid's meals. It's the result of an effort by health advocates promoting less soda consumption by children, the leading source of calories in the average child's diet. With its high sugar content, it's believed to be a major factor in the steep rise in child obesity over the last few years.
Sodas and similar beverages are also prime suspects in the prevalence of tooth decay among children. Besides sugar, these beverages are also high in acid, which can erode tooth enamel. These two ingredients combined in soda can drastically increase your child's risk of tooth decay if they have a regular soda habit.
You can minimize this threat to their dental health by reducing their soda consumption. It's important not to create a habit of automatically including sodas with every meal, especially when dining out. Instead, choose other beverages: Water by far is the best choice, followed by regular milk. Chocolate milk and juice are high in sugar, but they're still a healthier choice than sodas due to their nutrient content.
Keeping sodas to a minimum could help benefit your child later in life by reducing their risk for heart disease, diabetes and other major health problems. It will also help them avoid tooth decay and the problems that that could cause for their current and future dental health.
If you would like more information on these and other effective practices for protecting your child against tooth decay, please contact us or schedule an appointment for a consultation.
By Three Fountains Family Dental Inc
October 31, 2018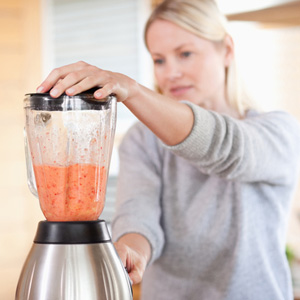 We don't often think about it, but eating is a multi-staged process. It starts, of course, with food that's hopefully high in nutritional value. But you also need coordinated jaw action to chew and shred your food that when combined with the enzymes in saliva can then be effectively digested in the stomach.
But what if you're unable to chew some foods because you suffer from chronic jaw pain and dysfunction? This is the situation for millions of people who suffer from problems associated with the jaw joints—temporomandibular joint disorders (TMD). It's not just the chronic pain and discomfort TMD can cause that's a real issue—it may also be preventing you from eating foods that are healthy for you.
Because TMD can make it difficult to open your jaws wide or causes pain when you bite down, you might especially have trouble with certain fruits and vegetables as well as many meats. Many people opt to skip otherwise healthy foods because they're too difficult to eat. That, however, could lead to lack of proper nutrition in the long run.
But with a few techniques and modifications, you can still include many of these foods in your diet even when TMD discomfort flares up. For one, be sure to cut all your food portions (including toast) into small, bite-sized pieces. These should be small enough to limit the amount of jaw opening required to comfortably place the bite in your mouth and chew. When preparing your food, be sure to peel fruits and vegetables that have skin, which is often hard to chew.
You should also try cooking crisper fruits and vegetables to a soft, moist texture. Choose meat cuts, poultry or seafood that can be cooked to a tender, moist consistency—you can also use gravies and sauces to further moisten them.
And don't forget to chew slowly. Not only does slower eating aid in digestion, it will help you avoid overworking your jaw joints.
With a few adjustments you can have a normal, nutritious diet and minimize the discomfort of your TMD symptoms. Continual healthy eating is a must for overall health and quality of life.
If you would like more information on reducing the impact of TMD on your life and health, please contact us or schedule an appointment for a consultation. You can also learn more about this topic by reading the Dear Doctor magazine article "What to Eat When TMJ Pain Flares Up."