My Blog
Posts for tag: dental implants
By Three Fountains Family Dental Inc
January 24, 2017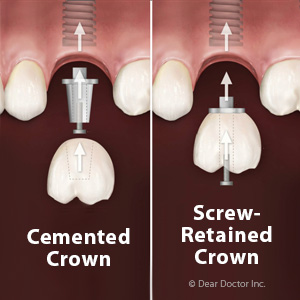 If you've lost a tooth, you have a number of options for replacing it. Perhaps the best choice in terms of lifelikeness and durability is a dental implant.
All implants have the same basic architecture: a titanium metal post imbedded in the jawbone to replace the root; and an abutment, a metal collar that links the post with a lifelike porcelain crown. But implants can vary in how the crown attaches to the abutment and post — either cemented to the abutment or screwed through the abutment to the post.
Either method will permanently secure the crown to the implant. But there are advantages and disadvantages for each.
A screw-retained crown may better facilitate any future repair that might be needed. For a skilled dentist it's a simple matter of removing the screw and then the crown from the abutment. There's less risk of damage to the implant during repairs or crown replacement. Many dentists also prefer screws for crowns placed at the same time they're installing the implant post (a procedure called immediate loading).
The screw access hole, however, could pose a cosmetic problem. Although we can cover it over with tooth-colored filling, it may still be noticeable and unattractive especially for a tooth visible when you smile (in the smile zone). There's also the possibility the porcelain around the access hole could chip.
By contrast, cemented crowns have a smooth, unbroken surface and are aesthetically ideal for smile zone teeth. But the cement could interact poorly with gum and bone tissue in some patients, causing inflammation and possible bone loss.
And unlike screw-retained crowns, cemented crowns are difficult to remove for implant repair. We may have to drill through the crown to access the screw between the abutment and the post, and then repair it cosmetically if we use the same crown. Again, the final result may not be quite as visually appealing.
In the end, it will depend on the implant's location, how your body reacts to the cement or your dentist's preference. In either case, though, you'll have a tooth replacement that's functional, life-like and able to endure for many years to come.
If you would like more information on dental implants, please contact us or schedule an appointment for a consultation. You can also learn more about this topic by reading the Dear Doctor magazine article "How Crowns Attach to Implants."
By Three Fountains Family Dental Inc
January 11, 2017
Tooth loss is not something that should be ignored. Even one missing tooth can change your ability to speak and chew normally, and the
strength and position of teeth adjacent to the empty socket.
At Three Fountains Family Dental Inc. in West Columbia, SC, Dr. Peter Stoltz and Dr. Brooke Stoltz emphasize preventive dentistry so patients retain healthy, natural teeth throughout their lives. However, oral health problems sometimes occur--even to the point of losing one or multiple teeth. If that happens, dental implants frequently are the best tooth replacement option, having many advantages over traditional bridgework and conventional dentures.
Why Consider Dental Implants?
Dental implants benefit oral health in ways no other tooth replacement choice can. Much of the benefit comes from how the titanium implant device melds with the natural bone of the jaw. Through a process called osseointegration, the titanium screw surgically placed in the bone stimulates it to grow and remain dense and functional. As such, the dental implant well supports the metal alloy extension post and porcelain crown which complete this popular dental restoration.
Also, a dental implant's stability exceeds that of other restorations such as fixed bridgework or partial or full dentures. These other replacements simply rest on the individual's gums, allowing recession of gum tissue and bone. Dentists and their patients like the versatility of dental implants, too. These devices can anchor a single tooth or may be placed in multiples to support multi-tooth bridgework or fixed or removable full dentures.
Life with Dental Implants
Dental implants look very natural and that they feel and function just like real teeth. Care is easy. Simply brush daily and floss every day as the American Dental Association recommends. In addition, see Dr. Peter Stoltz and Dr. Brooke Stoltz with any problems, although few are likely to occur. The American Association of Endodontics says 98.4 percent of dental implant procedures are successful.
Besides initial success, dental implants usually last for the duration of the patient's lifetime. So, while these state of the art tooth replacements cost more at the outset, overall they are budget-friendly. Contrast this longevity with the lifespan of the typical dental bridge or partial denture; it's only seven to 10 years.
Find Out More From Your West Columbia, SC Dentists
Are you facing tooth extraction or are already missing one or more teeth? Why not think about dental implants? Contact Three Fountains Family Dental Inc. in West Columbia, SC to find out more about this innovative dental restoration. Call Drs. Peter and Brooke Stoltz today for a consultation.
By Three Fountains Family Dental Inc
September 02, 2016
There are so many benefits to getting dental implants in West Columbia that you may not even realize yet.
Our West Columbia, SC dentists, Drs. Peter and Brooke Stoltz, know that you have options when it comes to how you are going to
replace your missing tooth or teeth. Of course, dental implants have become an ideal option because they are often the next best thing to a real tooth. Of course, besides getting a restoration that functions and looks just like a real tooth there are so many other advantages that you'll enjoy when you get this restoration:
Improved Speech
When you are dealing with tooth loss, you may notice that it's more difficult to speak properly. For those with significant tooth loss, they may turn to dentures hoping to restore their smiles; however, dentures can sometimes slip around, causing your words to become slurred. Fortunately, dental implants won't move around so you'll feel confident that your speech is fully restored.
Make Chewing Easier
If you aren't able to comfortably and easily eat certain foods, you may not be getting the nutrients you require to maintain a healthy mouth or body. Just like with speaking, slipping dentures can make eating some foods difficult, but getting dental implants in West Columbia can change all that. Implants are second only to natural teeth, which means you can enjoy all your favorite food without concern.
Protect Your Jawbone
When you lose a tooth those tooth roots are no longer present to stimulate the jawbone. When this happens other neighboring teeth can shift into the open space, causing misalignments. Also, the jawbone will begin to deteriorate because of the loss of tooth root stimulation. As the jawbone begins to lose density it will cause your chin to recede and cheeks to cave in.
Fortunately, when you get dental implants you'll get a restoration that acts just like tooth roots. This means the implant will stimulate the jawbone to protect it from deterioration but also to promote the growth of healthy, new bone cells.
Dental implants could just be the perfect treatment for you. Don't wait to find out! Call Three Fountains Family Dental in West Columbia, SC today and ask Dr. Stoltz if dental implants could be right for you.